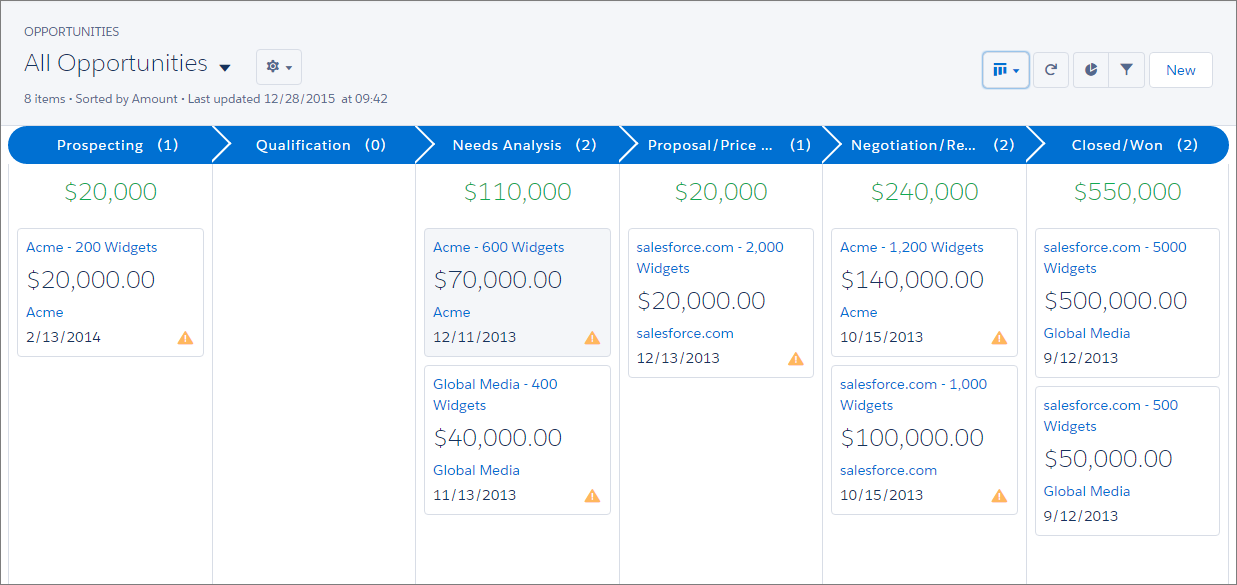 Salesforce Lightning moves the sales process faster and easier than ever before. There are two new tools available that enhance the sales process: the opportunities board and the enhanced run report page. These tools not only provide new capabilities but take Salesforce automation to the next level.
Opportunities Board
The first tool elevating Salesforce automation is the Opportunities Board. The newly created opportunities board organizes opportunities into a summarized view. Each individual opportunity is displayed in one of several columns arranged according to the stage. When the opportunity is ready to move to the next stage, users make the change on the same screen simply by dragging and dropping.
Additional features of the opportunities board include totals per opportunity stage and alerts. The totals per opportunity stage feature provide a clear picture of potential income related to the stage. When opportunities are moved from one stage to the next, the totals automatically update. The alerts feature shows any open activities and allows users to create tasks or events. This integration increases efficiency as users can stay on the same page to update opportunity action.
Enhanced Report Run Page
The other tool allowing users to get more from Salesforce is the enhanced run report page. The enhanced run report improves reports and dashboards with cleaner formatting and additional capabilities. Headers are now shown on the y and x axis's as you scroll up and down the page. Additionally, key information is displayed at the top of reports, which is ideal if you need a quick overview without digging in too deep in the report. There is also a new drop-down that allows you save, clone, and delete the report with one-click. 
Prolocity's cloud consultants deliver strategy, design, implementation, training, and optimization services to ensure that businesses are getting the most out of the technology. Their solutions leverage the world's #1 cloud platform, Salesforce, to deliver best-in-class solutions and accelerate success!